Featured Story
MAY 2020
by Megan Brooks, Director of TVN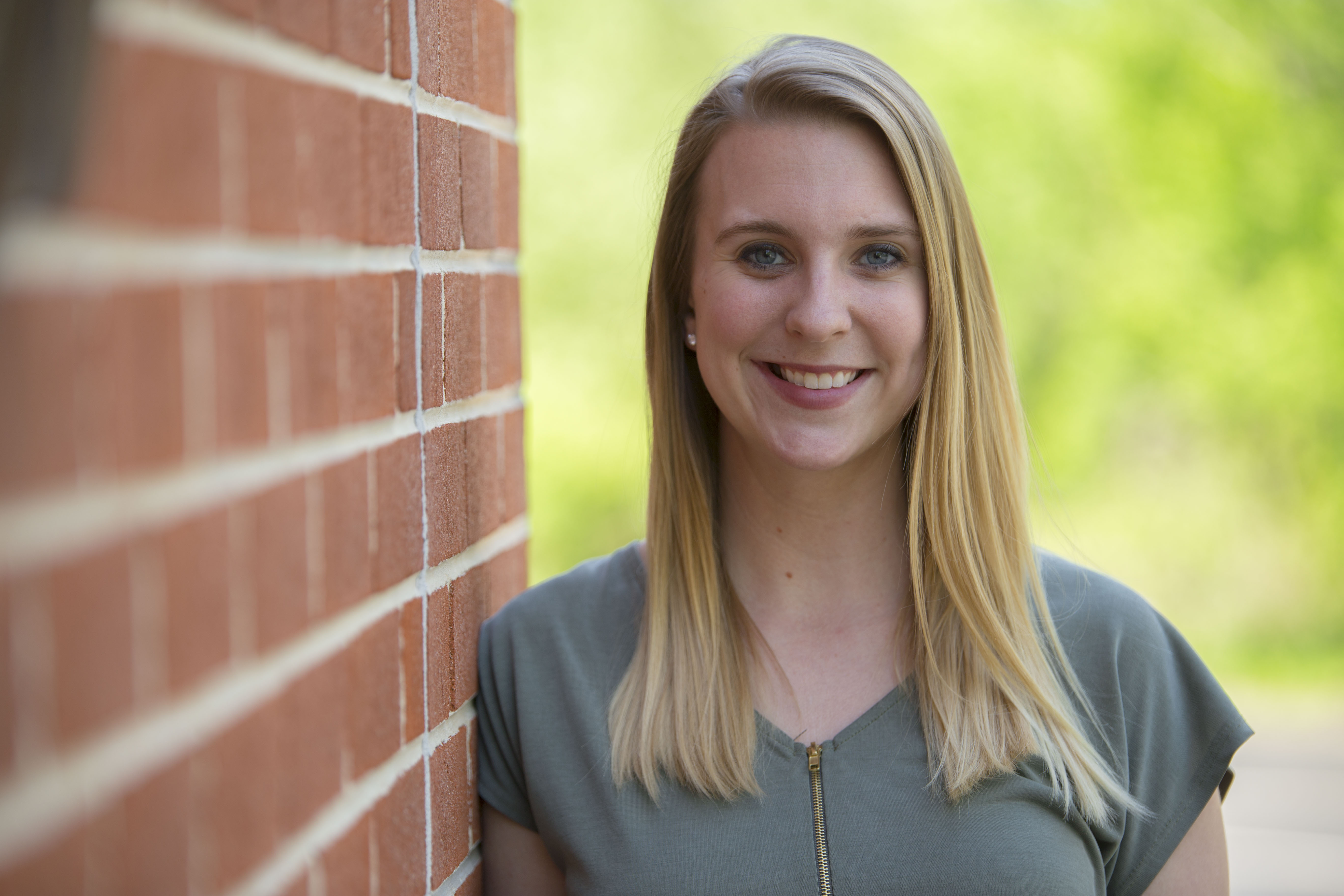 This newsletter is a little sad for me, as it is my last newsletter as Director. I want to assure you all that the leadership at Fairview Village Church is putting forth full effort to keep the program running and smooth as I transition out. We are currently interviewing some incredibly qualified candidates, and are praying for God's will to be done at TVN.
You can join us in praying for the Holy Spirit to lead us and guide us, as we prepare this month for me to transition out. Pray for Kenya, as she remains on staff, and our key volunteers who have stepped up in new ways. We are eagerly awaiting news of a lift on the stay at home order, and praying about what Summer Programming might look like. In the meantime, we are serving families through FaceTime and video chat tutoring.
I plan to stay involved at TVN through volunteering, as I take a step back and take on a new role with Worthwhile Wear, and take some time to do what is best for my family. I appreciate the support that I've received from everyone!
---
APRIL 2020
by Megan Brooks, Director of TVN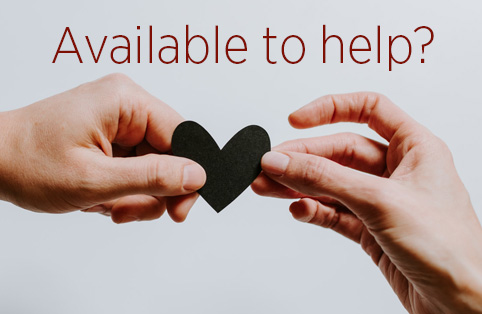 This newsletter is a little bit different to write! As of the first week in March, programming at The Village Norristown has all come to a halt, in order to try to stop the spread of COVID-19 and keep all of our kids, families, volunteers and staff healthy. So, we will be using this newsletter to update you all!
As of now, we are following the governor's orders, and following suit of the schools, in terms of when we will re-open. So far, to the best of our knowledge, all of our families and volunteers are healthy! Praise God!
Like many people, some of our families are struggling financially in the face of income loss due to COVID-19. The church, as well as individual volunteers, have done an incredible job of stepping up and meeting needs through meals, groceries and baby diapers in this time of need!
If you would like to help, please contact Megan Pizzo at . Thank you!
---
march 2020
by Megan Brooks, Director of TVN
This month, I wanted to share about one of our sweet kids, Daniel, and his response to our small group devotion on sharing the Gospel.
About once a year, we remind the kids that there are people in their lives who may not know how much Jesus loves them, or even who Jesus is. This month, we held a small group devotion like this, where we asked the kids to practice sharing the Gospel with each other.
In my small group, I had Daniel. After Miss Janet and I had finished giving the kids an example of sharing the Gospel, Daniel raised his hand. He said "On my bus, I have a girl named Sarah and I sit with her. And last year, I started to tell her about Jesus. Every time we have devotions, I go back and tell Sarah what I learned so that she can hear it too. And sometimes she has questions for me. Sometimes I know the answer but sometimes I don't, and so I have to pray and talk to God. I talk to her for a long time about it even like a month so that she can know about Jesus." I was so moved by this little one's courage and persistence to share with his friends, and the fact that he was sharing what he learned here at TVN with other people!
---
February 2020
by Megan Brooks, Director of TVN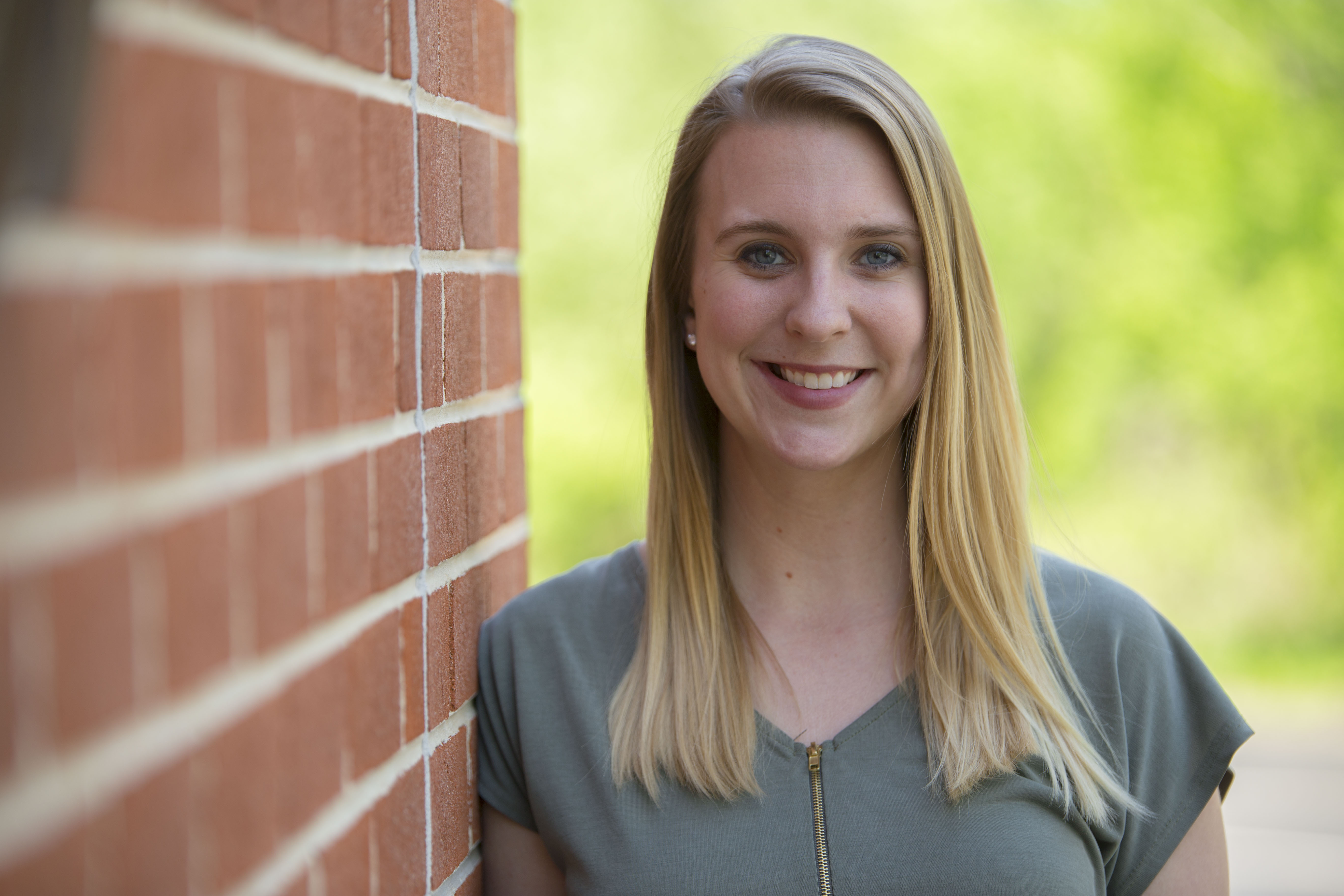 This month, I would like to take the time to address something with all of the wonderful sponsors, volunteers, prayer warriors and community members who have poured into TVN. Over the last 2 months, I have been seriously praying and fasting about what my role should look like at TVN, as I try to balance my work and (newly married) home life.
In my time praying and fasting, I have come to the decision that it is my time to leave TVN. This decision did not come without heartache and tears. This ministry means so incredibly much to me, as I know it does to many of you! When I first started out in this job, my stage of life was perfect to take it on. However, as the program (and with it, my position) has grown, and my life has changed, it is no longer something I'm able to do.
I will remain with the After School Program through the end of the school year, May 22, while I start a part time job with the Worth It Program, a program that supports women who have been exploited through sex trafficking. I am hoping that, by staying 4 months, I will be able to train the person who will replace me well!
I will definitely be staying active in the Norristown community, and fully support Fairview Village Church and everything that they do. My time in this role has been an enormous blessing, and they have been incredibly supportive, both in my staying and going.
If you have any questions, please feel free to reach out to me!
Thank you,
Megan Pizzo
Director of The Village Norristown
---
January 2020
by Megan Brooks, Director of TVN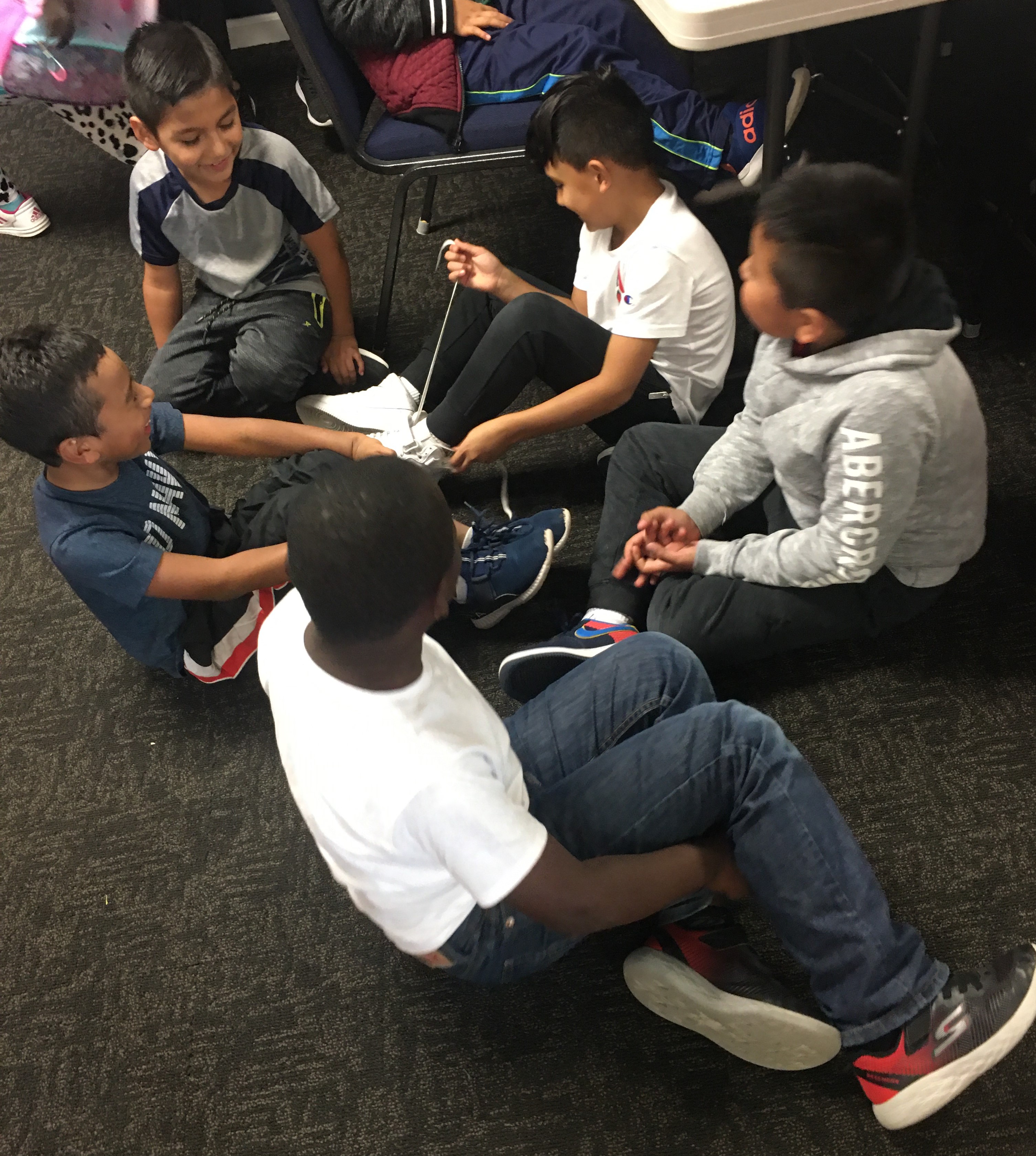 There is so much that I could talk about this month! Our amazing kids worked so hard on the Christmas Show, and our soloists performed amazingly well! It was such a nice time! However, something special happened for TVN over the Christmas season, and I'd like to talk about the generosity shown (by many groups, individuals and families, but I'm going to talk about the WOW Women's ministry, in particular).
A few months ago, I spoke to Fairview Village Church's Women's Ministry, Women of the Word (WOW), about some needs we had within our TVN family. Many years, WOW has given gifts for the kids. However, we have many families, individuals and sponsors who step up in this way, and kids get a gift from TVN, too. This year, I asked if the ladies of WOW would consider meeting needs for a family in an incredibly tangible way: by helping provide support for their bills over the holiday, and food to make a Christmas dinner.
So often, I see kids come into TVN unshowered, with unwashed clothes. I try to reach parents, but phone bills haven't been payed and I cannot. I go into homes, and it's absolutely freezing, because the heat either can't be turned on, or they are trying to save money. As I spoke to the women about this, the response was incredible. So many people reached out to me! I fully believed that we'd be able to give at least $100 to each of the 5 families I had identified in the most need.
Come the end of December, I had been having a particularly difficult day, personally. I was exhausted. I walked into the office, and the hallway outside my office door was COMPLETELY FILLED. Pastor Kelly came out and said "Did you see all of WOW's donations?" and I immediately choked up. There were laundry baskets filled with high quality food (guys - like we are talking Ghirardelli brownie level), gingerbread making kits, tons of grocery gift cards, veggies, stuffing, spices, hand written cards. So much, that it didn't all fit in my office.
Not only were all of these goods collected, but WOW brought in nearly $4,000.00 to help families pay off their bills. We were not only able to cover electric and water for families for the month of December, but we were also able to help families pay off some past due bills.
When I was speaking with parents and letting them know what we'd be able to do for them, through WOW's generosity, their reaction was one of being genuinely overwhelmed. In particular, one of our moms had the best possible reaction. This mom has intimidated me in the past, and has certainly had an incredibly rough past few years. She has four sweet kids, two of whom are in our program. We originally got the girls involved in the program, after I saw a post on Facebook Marketplace that her family had lost everything in a fire two years ago. When I told her that we'd be able to pay her rent and PECO bill for December, she completely crumpled, crying (let me stress, this mom is NOT A CRYER.) She grabbed me (also not a toucher!!), hugged me, holding my hands and said "When you reached out to me two years ago, you guys saved my family. Your church truly shows the love of God. I've never seen anything like it, and I can't believe it's real."
We are serving families who may have never seen God's mercy, love and kindness from another human, ever. For me to be able to deliver this news was such a blessing. I was physically able to walk into freezing cold homes and let them know that their oil would be serviced the next day. I am so thankful for the ladies in WOW, and the generosity they showed to families they've never even met.
---
December 2019
by Megan Brooks, Director of TVN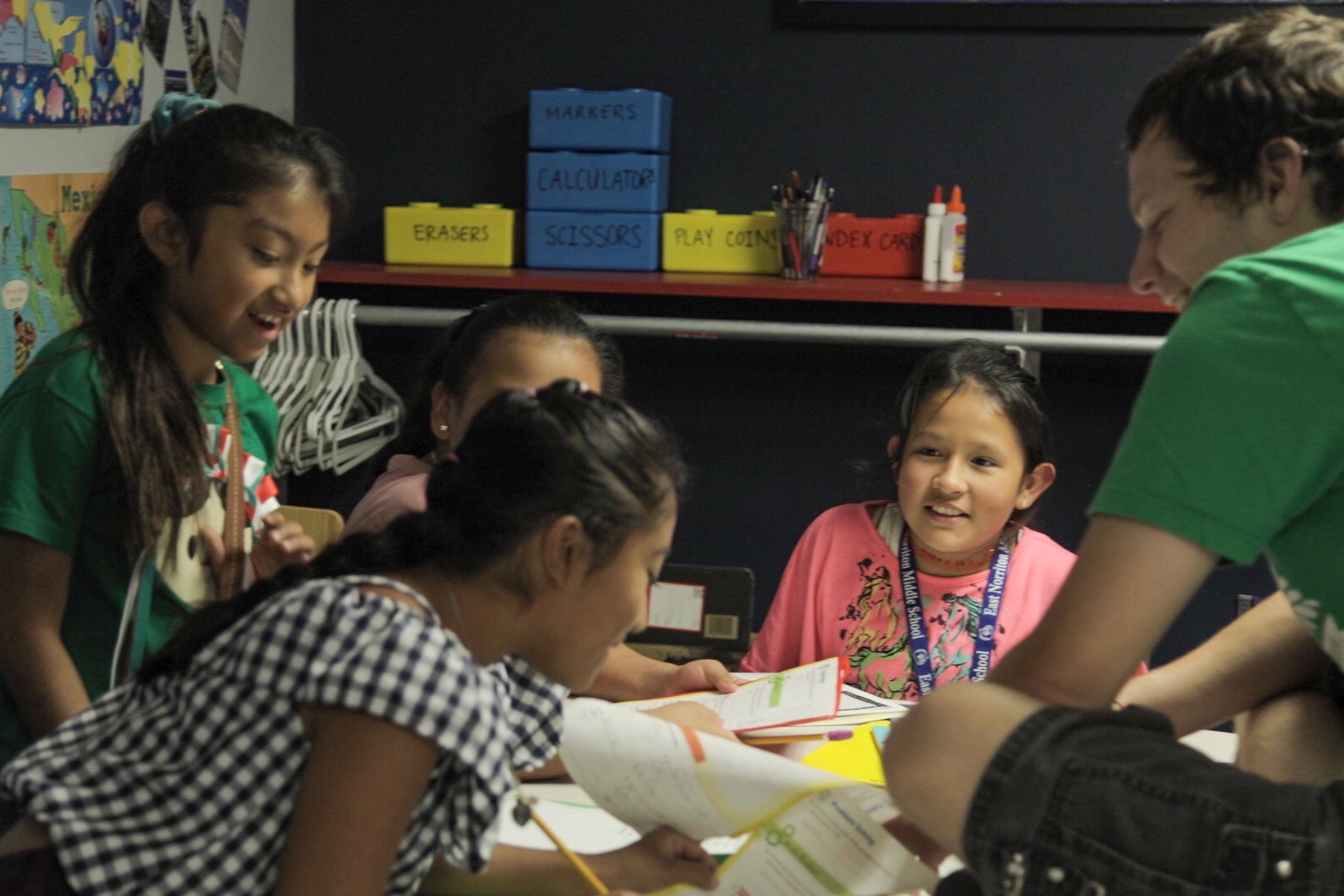 The focused story this month is about our upcoming CHRISTMAS program. Each year, before we begin practicing our songs, I select a few songs to feature a child's solo to give the kids an opportunity to develop their gifts and feel proud of themselves. This year, I was faced with a pretty difficult decision!! We have 3 solos, and almost 20 girls and 3 boys auditioned!!!
There were a few stand out voices, who I knew immediately would do great with a solo, but there were some kids who I could tell were talented, but nervous and quiet. One of these kids was our precious and gentle Naomi. Naomi is a 5th grader, new to us this year. She is hard working, incredibly smart, but behind in school. We have been working with her a lot one-on-one (especially our awesome Red Zone Volunteers!) I think it is safe to say that she's won the hearts of the volunteer staff! Naomi was one of the last to audition, but I could see her mouthing the words and practicing quietly as each other child auditioned. She looked nervous, but so determined. As she auditioned, I saw the effort she was putting forth, even though her voice came out quiet and shy.
As I was making my decision for the Silent Night girl's trio, I had SO many options, but I couldn't get the image of Naomi practicing off to the side out of my head. Isn't that what we want? Kids who are dedicated and excited, more so than the kids who will step up to a mic and stop the show? I want to encourage all of the kids to develop their gifts, but especially those who might need a little push. While her voice was quiet, it was certainly pretty and singing is a hobby I would love to see Naomi pursue. So for me, after thinking about it, the choice for Naomi became obvious.
The day after auditions, I posted the results on the whiteboard. Most kids came in right away to look, but Naomi didn't notice the posting. As she passed through, I grabbed her and said "Naomi, did you see the board?" "Oh, solos…" she said skeptically. But when she saw her name, her face lit up like a Christmas tree! She jumped into my arms (literally), hugging me and said "You picked me????"
"I did!" I said. "You deserved it! You practiced and took it seriously and you did a great at your audition." She looked up at me, with tears in her eyes, still hugging me and said "Thank you for picking me".
Solos are such a small thing. It's 30 seconds in a very amateur Christmas concert. But to this kid, it seemed to be everything. I was so happy with the choice I made. Everyone - make sure you come out and see her shine!
---
november 2019
by Megan Brooks, Director of TVN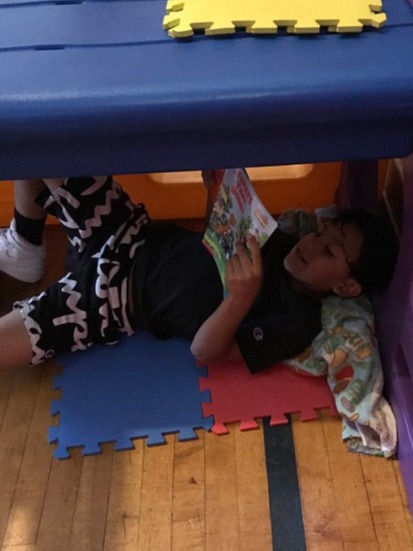 Our focused story this month piggy-backs off of last month, when I wrote about an exciting new literacy program that we would begin using for the After School Program! We have had the literacy program for a little over a month now, and I would love to share about our journey so far!
When Patti, our reading specialist, and I first gave all of the kids their initial evaluation, we were devastated. More than 60% of the kids that come to the After School Program were below the 10th percentile, and many of them ranked in the 1st percentile, compared with the national average for their grade level. Only 5 out of 60 kids tested (we included our 6th grade junior volunteers in this!) hit the benchmark for their grade level, and are "in the green". Patti and I had no idea where to start, as 55 children needed urgent intervention. This is an overwhelming undertaking! After prayer and thought, Patti encouraged our team and myself to focus on the few basic things that we could do. To start with what we could manage. Our goals were to:
1.)Get our kids to a place where they can read independently
2.) Reinforce phonics
3.) Get them reading and taking comprehension quizzes
While the Renaissance program offers more than this, we wanted to start simple, since our kids are so far behind, and not bite off more than we could chew. I prayed that our kids would get excited about reading and quizzing, and that the extra reading we would be enforcing would help build their confidence.
That was one month ago. Since then, kids have started taking comprehension quizzes and, because our God is BIG, they are ACTUALLY excited about it! I have seen kids who were reluctant readers reading and taking quizzes during gym time or free time! I have seen kids challenging themselves and asking for help more. I have seen kids take books home so that they could finish. I have had kids asking to read more and read to me. I have seen pride and confidence.
A month ago, I was anxious that the gap was too large. I was sick to my stomach, thinking "what if all the years that these kids have lived trying to read books way above their level, has been too damaging? What if they will never want to read?" Giving these kids books that are on their level, while challenging and teaching them to help them grow, has been rewarding, even in just one month. I am encouraged as I see confidence and desire to read growing astronomically. While I hate to admit it, I am pleasantly surprised. I shouldn't be surprised, because this is exactly what we prayed for, and we serve a big God! Just yesterday, I texted Patti, "It's working".
Thank you to all of our sponsors and volunteers, for contributing through prayer and resources to the program. To the volunteers, for sticking it out through the crazy eval days and schedule changes! I believe that our God wants the very best for these precious kids. Reading is a fundamental building block for them- and our prayers, and hard work, are working!
---
October 2019
by Megan Brooks, Director of TVN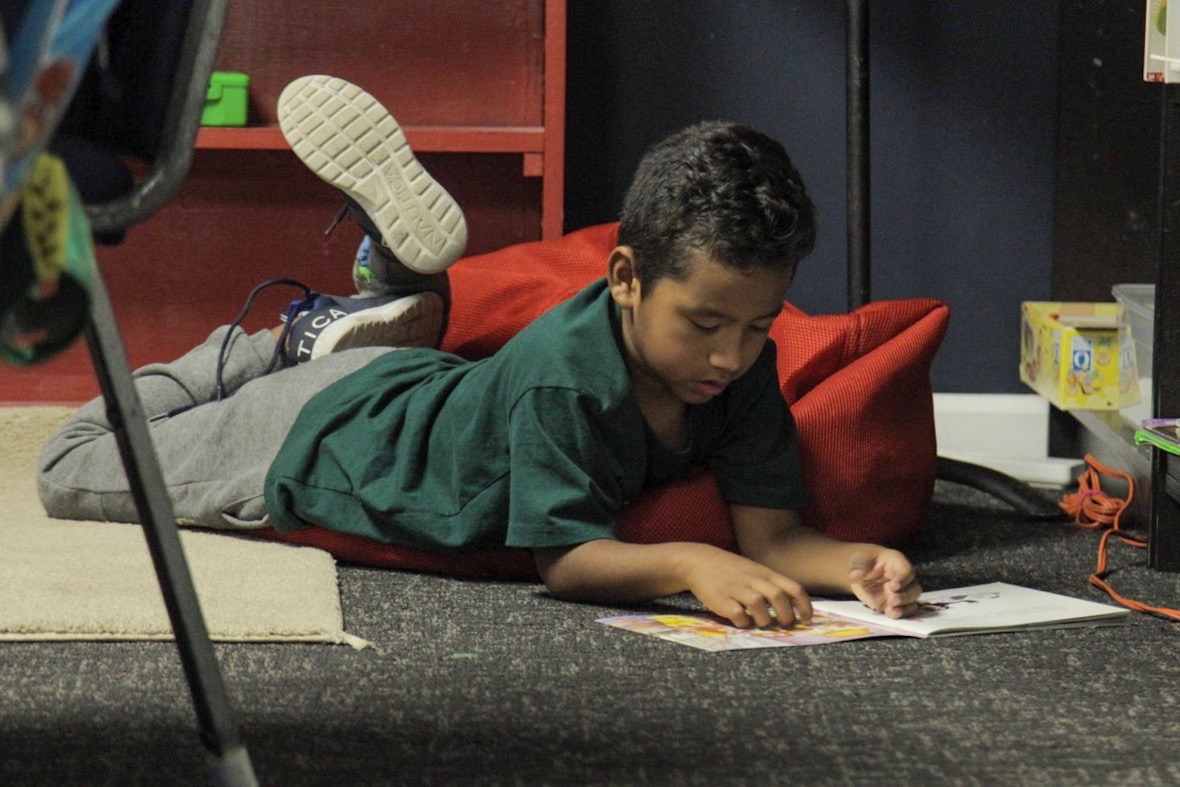 For our focused story this month, there is SO much that I could have said about our sweet kids...
Our new kids adjusting with so much help and love from our veteran kids
Kids asking the best questions about Jesus
Kids asking to be prayed for when homework is hard
Volunteers stepping up and helping make the TVN world go round!
However, I really felt as though I need to give God the Glory with this story, and share about utter and complete provision from our heavenly father!
We have started many new initiatives this year with TVN. We have started Number Ninjas, a math enrichment time where kids are focusing on practicing mental math. We have a new Chess Club on Tuesdays, thanks to volunteer Khai Pham, who is teaching the kids chess! One new initiative that I have been praying about and thinking about for a long time is the use of AR programming for our kids' literacy. This programming allows us to work with the kids and meet them where they are with literacy. It helps us evaluate them, quiz them (there is a comprehension and vocabulary quiz available for EVERY book in our library) and gives us tools to help the kids grow - curriculum, videos, activities. The evaluations pinpoint EXACTLY what kind of help each kid needs when it comes to reading.
This program had been recommended to me by our reading specialist, Patti Chung, and I fell in love with the idea. However, the program costs much more than I was expecting ($3,400.00). Many times, when we encounter things that would be beneficial to the program, but are very expensive, I can easily shrug it off and say "we don't need it!" I am so much more worried about giving these kids love, than giving them nice things. However, reading skill and literacy are two things that I have become extremely passionate about, after seeing the deficit in our children. On a daily basis, I see their parents struggle, because many of them don't know how to read. They can't fill out forms without help, or read letters and flyers sent home. I have meetings with parents at least once a week to help with forms - and most of the time it is not just a Spanish-English barrier, but a literacy barrier. I want more for our kids. Reading is the BASIC building block in education. You need it for everything in life. So I pushed. I told leadership that I wanted to raise the money to get the program (even though we are currently raising money for – literally - everything else for TVN!!) I felt the Holy Spirit just tell me to go!
Within ONE WEEK of sending out an email to volunteers, explaining the benefit of the program, we were fully funded. The program will start this month, and Patti and I train tomorrow on how to use it. I am so thankful for a community who believes in TVN and these kids, and for a God who says – "It is possible when I am behind you". Our God is good, and he so cares about these children. He is concerned for their every move and he will give us what we need to love on them!
---
SEPTEMBER 2019
by Megan Brooks, Director of TVN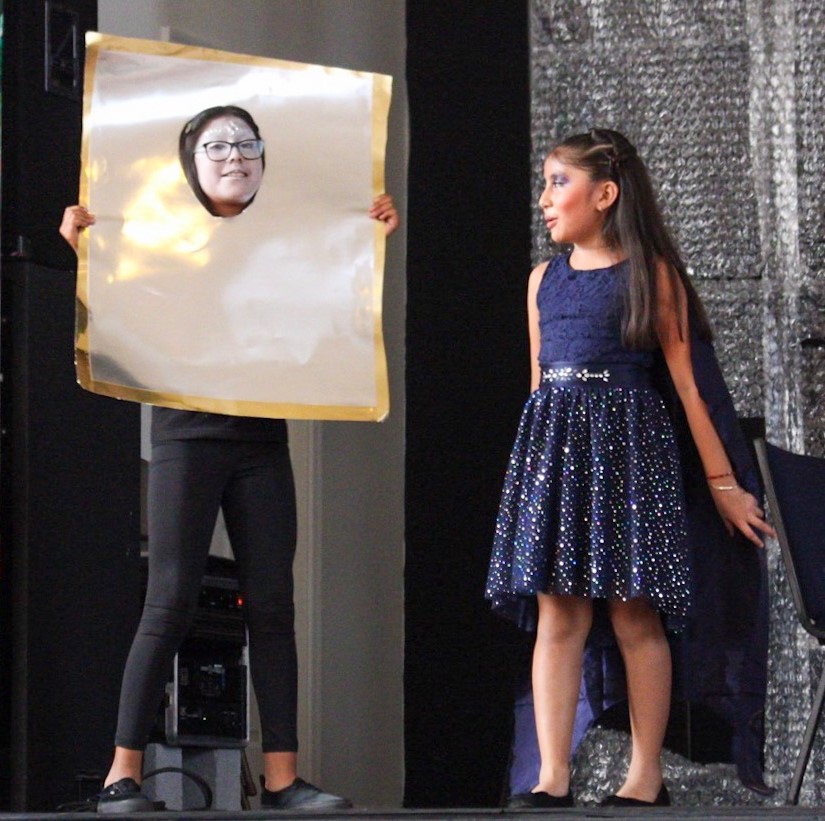 I wanted to take a little extra time to talk about HOW precious the kids were performing Snow White last week, and how proud I am of them! For those of you who don't know, theater was an elective that the kids could choose in Summer Bridge. So this is something that the kids chose to do - and worked extremely hard - practicing three times a week, memorizing lines, and even creating the set and helping with costumes. None of these kids had ever had experience with theater coming into the summer, and it's something that I felt God had put on my heart, because I wanted the kids who were not sold out for sports (Me as a kid!) to have a chance to explore their potential gifts and passions! For 6 weeks, we worked on expression, blocking, and dialogue! On August 30th, the kids put on an impressive show! With Vennus leading as Snow White, we had 18 kids total in the cast, and 4 helping as the stage crew. Amelia took it upon herself to help me with the costumes, and actually handmade many of the costumes! Amelia and Justin also completely created the set on their own!!
Another fun thing, was that Jose, Johana and Alexander's brother, came in to help with make- up the day of the show! We had over 30 people turn out to watch the kids. It was so fun to see them dressed up in costumes, with their make-up on, bringing their 100% effort to the performance. Parents were so proud, and we even had many volunteers show up to see the kids perform! I definitely shed a few tears during their final bow! The best thing for me was watching kids who started out nervous, quiet, and self-doubting become confident, excited, and shine on stage. I think a few of them really found their element!
---
AUGUST 2019
by Megan Brooks, Director of TVN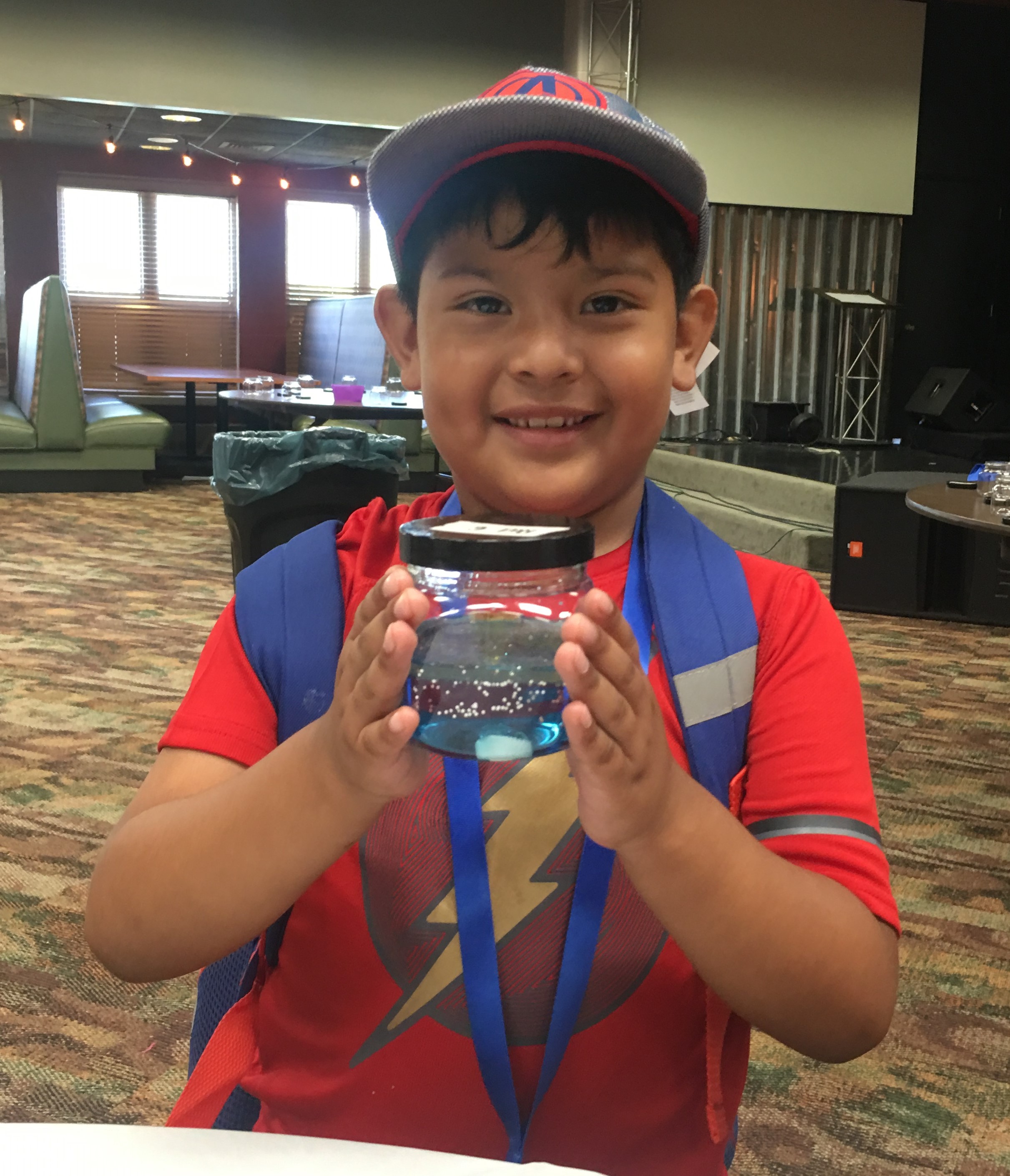 Our featured story this month introduces our newest upcoming kindergartener, Lupita, and our already beloved Enrique. Lupita started with us on the first Thursday of Summer Bridge (she missed the first day) and some SERIOUS separation anxiety. As it turns out, the last camp she went to, she got screamed at, and it traumatized her. On her first few days here with us, Lupita screamed and cried. She is QUITE strong, and we had to hold onto her as her mom tried to leave.
Needless to say, it was pretty chaotic and stressful, and the other kids in my group (K-1) were just staring at Lupita like they saw a ghost! I watched them struggle to know what to do or say as Lupita continued to cry through reading, math and writing sessions. Miss Debbie and I tried to comfort and distract Lupita without affirming her screams and cries. Eventually she calmed down!
This week, Lupita struggled again. Her mom stayed for the first half hour, which seemed to make it much worse. Again, the kids just looked at her with bug eyes. I couldn't blame them! She was not interested in what we were doing, or making friends. Finally, I saw Enrique look at me and take a big breath. He sat next to Lupita and said, "When I started Kindergarten, on my first day at Paul Fly, I was really scared. And even I was crying. But it's fun at school and here. And here you will be in Yellow Zone, which is in the gym, and there's lots of friends. But I was scared too. And then it got better. See now I'm okay."
MY. LITTLE. HEART. Not only did that little peanut minister to Lupita (who IMMEDIATELY stopped crying and listened to him), but he actually ministered to my grown heart too. I had spent the week worrying that Lupita wouldn't adjust, that she'd have a hard time going to Kindergarten in the fall, that she would always just hate our programming and cry the whole time. And Enrique reminded me that he, too, cried (and hid!!) during his first week of Summer Bridge! It's scary for the little ones when everything is brand new. Lupita left that day with a smile on her face, and even told me (after 3 straight days of tears and screaming!) "Manana, no voy a llorar"…."Tomorrow, I'm not gonna cry." GO ENRIQUE!
---
JULY 2019
by Megan Brooks, Director of TVN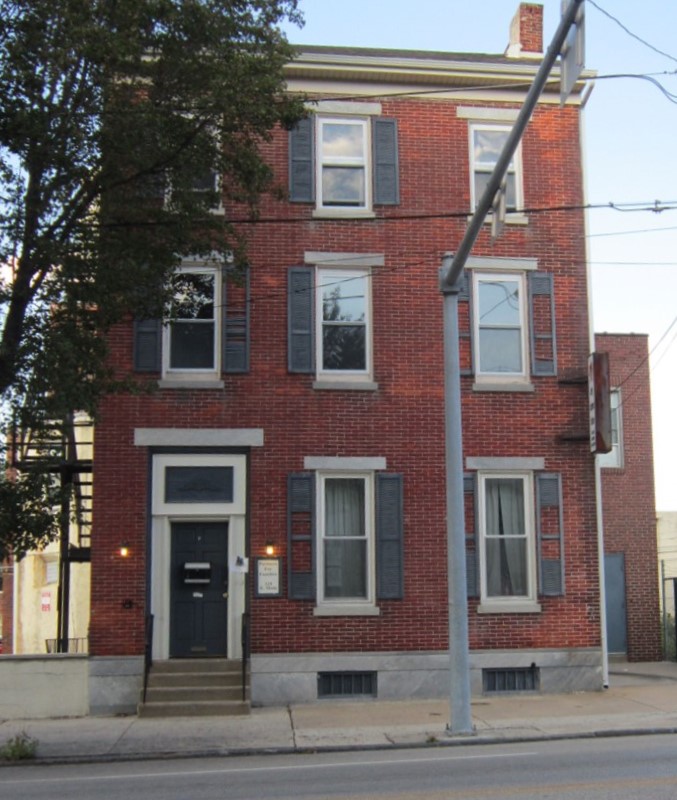 During June, the days slow down, and we, as a staff, really have the opportunity to reflect on the year. Usually, we get together and ask the question, "What can we do better next year?" (Which, of course, there is always a lot! We are always growing!)
However, the summer months are also a time to celebrate, and look back on what the Lord has done this year. We can see vividly how much each kid has grown from the beginning of the year to the end. A child who struggled with reading, who finally gained the confidence. A kid who was questioning faith, now professing Jesus and sharing with his friends. Sisters who came in shy and reserved, who started engaging and being kids.
What also helps us to celebrate, is feedback from our community. This June, I have personally received a flood of incoming emails from the schools, mental health facilities, and individuals in the area, asking about our Summer Bridge Program. Each person asking has a different story (a client needs help reading, socialization, free after school care, etc.), but without fail, each and every person who has contacted me about getting a child enrolled in Splash Fest, Summer Bridge, or next school year, has said the same thing: that someone they knew in the program simply raved about the After School Program.
As a director, this is the most encouraging feedback I can get. It's one thing when people tell me they like the program, because I mean… they usually wouldn't tell me otherwise. But when parents tell other people (friends, social workers, behavioral therapists, teachers) that our programming is making a difference, I believe it!! And it is making a difference in JESUS' name. There is no other organization in Norristown that is freely offering the programs that we are doing, in Jesus' name.
I would love to invite you all to celebrate this with me. The Village Norristown is a staff of 2, with no funding outside of sponsors and donors. Read: We cannot do this without you. EACH and every person receiving this email, through their time or their resources, helps us achieve impact on a daily basis. We appreciate you!
---
JUNE 2019
by Megan Brooks, Director of TVN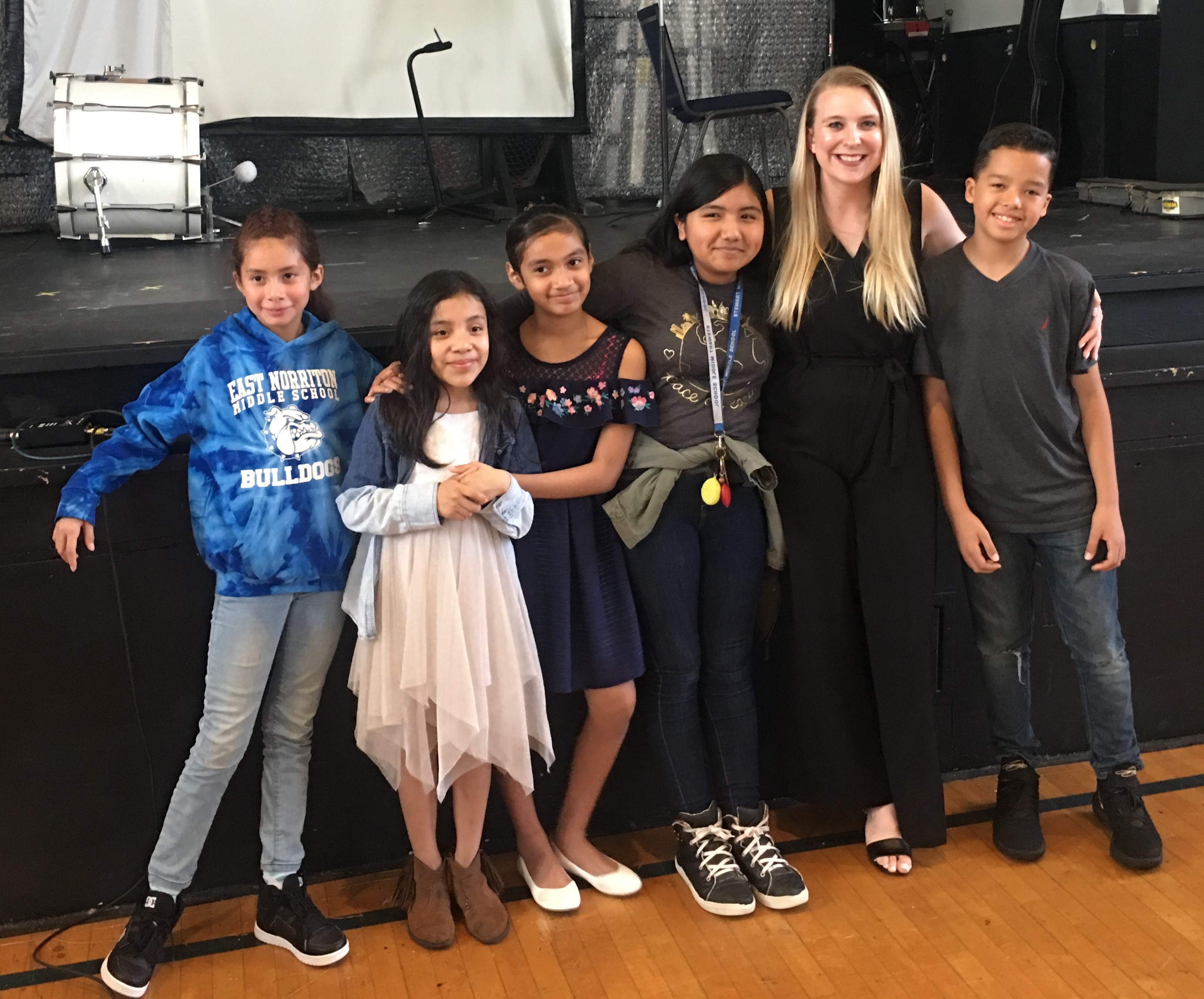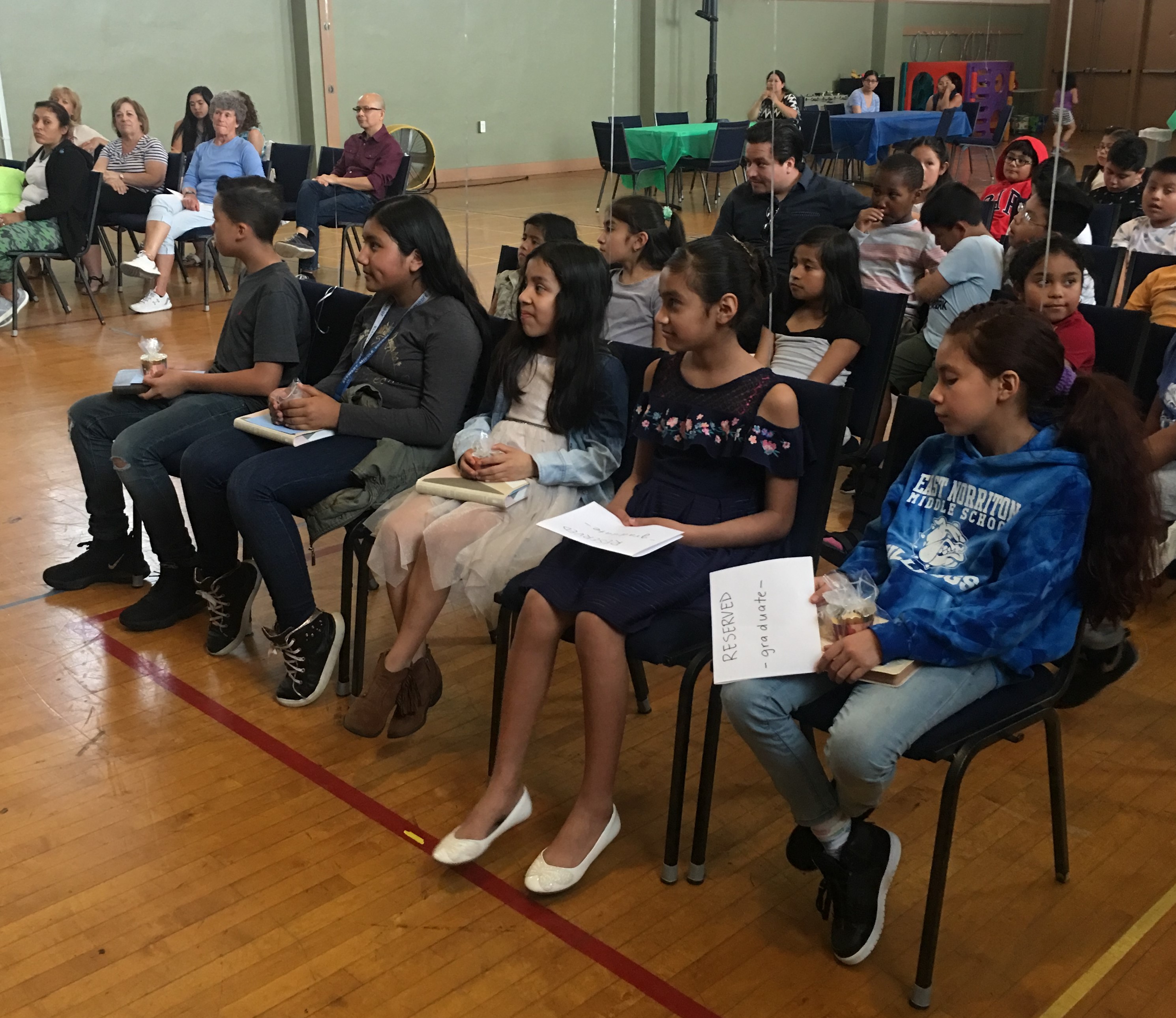 I want to use our focused story this month to talk about how precious, sweet and uplifting our graduation ceremony was this month. Graduation is actually one of my favorite days of the year, despite the bittersweet emotions that come with it.
Each year, graduation has been a time to completely celebrate the years that we have had with our 5th graders… how they've grown, and the people they have become. This year, we had a record number of volunteers and parents show up for graduation. We celebrated Tyler, Amelia, Kimberly, Melissa and Vennus.
While graduation is always special… this year, our graduate class was chock full of kids who were in my very first group of After School Kiddos (as second graders!)
I want to name just a few of my favorite things from graduation this year:
~ Almost all of the kids stood up during open mic to say something nice about our 5th grade class
~ Many of our volunteers, especially Red Zone volunteers, showed up and spoke about our 5th graders
~ The look of pride on Tyler's face, as well as on his dad Benjamin's face the entire ceremony
~ Celebrating afterwards with water ice from Diego's dad's water ice company!
---
MAY 2019
by Megan Brooks, Director of TVN

This month's story comes from a more subtle moment, but really defines what TVN is all about.
A few weeks ago, one of our most shy students, Barbara, wrote "I love God" on the white board. Now, to an unknowing eye, this might seem totally insignificant. You can find these words written on one of our white boards pretty much at any time. Our kids are so expressive, and they soak up learning about the love of Jesus like sponges! They love to write things like this on the board.
However, Barbara is a new immigrant to the US. She came to us speaking no English, and was selectively mute. I remember thinking how stressful it must be to be in a classroom where you can't understand, and then have to do homework you don't know how to do. We tried our best to re-teach the information in Spanish, but not all of our staff and volunteers have teaching experience, degrees or even basic math knowledge (Miss Megan!). Still, we tried our best to connect with her. Kenya, especially, devoted hours a day trying to help her adjust and learn. We put her in lit zone. We had her copy English words into her journal and read extra. We assigned kids to stick with her during games and translate instructions and devotionals. Over the last two years in the After School Program, she has slowly started to open up to us, speak MUCH more and engage in group activities. We have been so proud of how she is THRIVING in gym (she loves jump rope and tennis) and homework time!!
But, the other week was the first time that I saw Barbara really embrace the idea of Jesus. I saw her write "I love God" on the board, with a "Love, Barbara" underneath and I just unraveled. It's so important to me that the kids absorb what we are teaching about Jesus, especially if they do not receive it at home.
The following week, our 3rd graders engaged in an Essay competition because they didn't have homework due to PSSAs. There were two prompts. One was about how we can make Norristown a better place, and the other was about how we show the love of Jesus.
Kenya came to me later on in the day and said, "Barbara wants to write about Jesus… but she doesn't know where to start. She never learned about him at home, she only knows the stories she's learned here." MY HEART. Kenya spent time encouraging Barbara and teaching her more about who Jesus is.
It is moments like this where I know that we are making a difference. These kids need the love of Jesus!
---
April 2019
by Megan Brooks, Director of TVN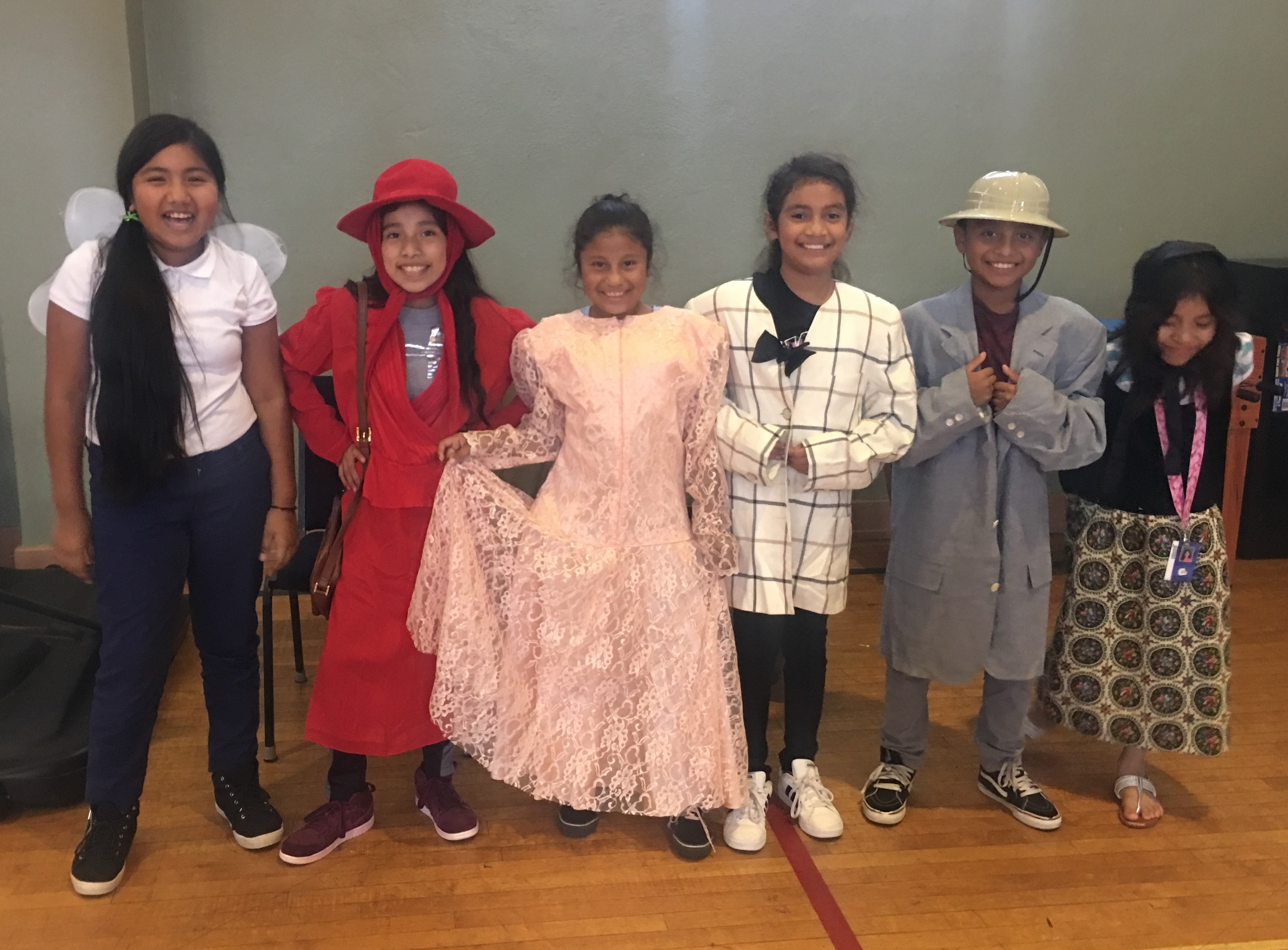 Over the last month, we have been really working with the kids on kindness, standing up for each other and not gossiping. I hate to say it, but mostly the girls! We have had instances of cliques, exclusion, she-said he said, and overall just drama. Two weeks ago, the dramas escalated, and, unfortunately, ended up in the decision to suspend Kimberly. (I know, I know, this story doesn't sound positive yet, but it is! I promise! Hang in there!)
As I spoke with Kimberly and her mom, my heart was breaking for a little girl who I KNEW had this awesome heart - a little girl who I had just watched perform in her first musical, a girl who loves to help the little kids with reading. A girl who, also, has been allowed (either at school or at home-who knows!) to have her way most of the time, and who is a leader amongst the other kids, for better or worse. As I spoke with Kimberly and her mom, Miguelina, Kimberly opened up about some anger problems, and how it has been hard for her to have self-control when her feelings are hurt, or she is feeling insecure. It was such a mature conversation that I almost revoked the suspension! However, we needed to set an example that any level of bullying will not be tolerated at all at TVN.
I was able to speak into her life that she was created to do hard things. To have hard conversations, to take the high road and to promote reconciliation with other kids. I told her that I was proud of her in our conversation, but that her actions still had consequences. We said goodbye for the week.
When Kimberly came back this week, her attitude was bad. She wouldn't look at me, or talk to anyone. Finally, I pulled her aside and asked "What's up with the attitude? We were so excited to have you back!" She looked like she was about to cry. She said to me "Miss Megan, I don't want to be here. I feel like I don't belong anymore." (Shot to the heart. That is my worst fear for any kid! I want this to be a safe place, full of love and good feelings and inclusion!!) I grabbed her hand. I said, "Baby girl, we all missed you so much. You know that I love you. You know that these volunteers adore you. You know that you have so many friends here, but I can't make you believe that. You have to choose to believe it for yourself, because anything else that's in that head of yours is a lie. You are loved here. You belong here." There was a small shift in her expression, but still no eye contact. "But what if the kids are mad at me…."
Ahhhhh. Honesty. I LOVE when kids are mature and honest about their fears in conversations - that's when I can actually help! I thanked her for being honest with me about her fears. I told her that it was true that there were probably some kids with hurt feelings, and there may even be kids who were still holding onto some anger towards her from what had happened the week before. But, I explained to her that because we are all brothers and sisters in Christ, she had an amazing opportunity for reconciliation, that she could ask for forgiveness, and that the kids here were still her friends - they just needed to know that she loves them, and was sorry for being unkind. I told her that there might be some broken trust right now, but Jesus can heal that. She said to me, "But what if they don't forgive me?"
Isn't that a fear for all of us? Don't we all fear broken relationships? I explained to her that the Bible doesn't just ask us to forgive, it REQUIRES us to forgive. I told her that having Jesus in our hearts means that we forgive. Always. It's so important. I asked her if she would like for me sit with her while she had these brave and hard conversations. She was very relieved, and said yes. So we called the kids whose feelings she had hurt in, one by one, and Kimberly bravely and honestly apologized and asked for forgiveness. As she did, every single child graciously hugged her and said "I forgive you", "We can still be friends!" "It's okay!" Tears on tears.
One of the little girls who had been involved was not there on the Monday that Kimberly and I had these conversations, and missed a few days this week. Yesterday, she was here. Kimberly (on her own!) came up to me and said, "Miss Megan, Briza is here today. Do you think we could go to a quiet room so that I can ask for her forgiveness?"
OH MY PROUD HEART. These are the moments I live for! These are the moments that make the discipline, and the tough love, and the hard days so, so worth it. I have been so proud of our girls lately. After a few conversations, some teaching, and an assembly, I am seeing them step up. They stand up for each other, call each other out for unkindness, and apologize when necessary. They are the kingdom, and it is such a privilege to get to help them grow.
---
march 2019
by Megan Brooks, Director of TVN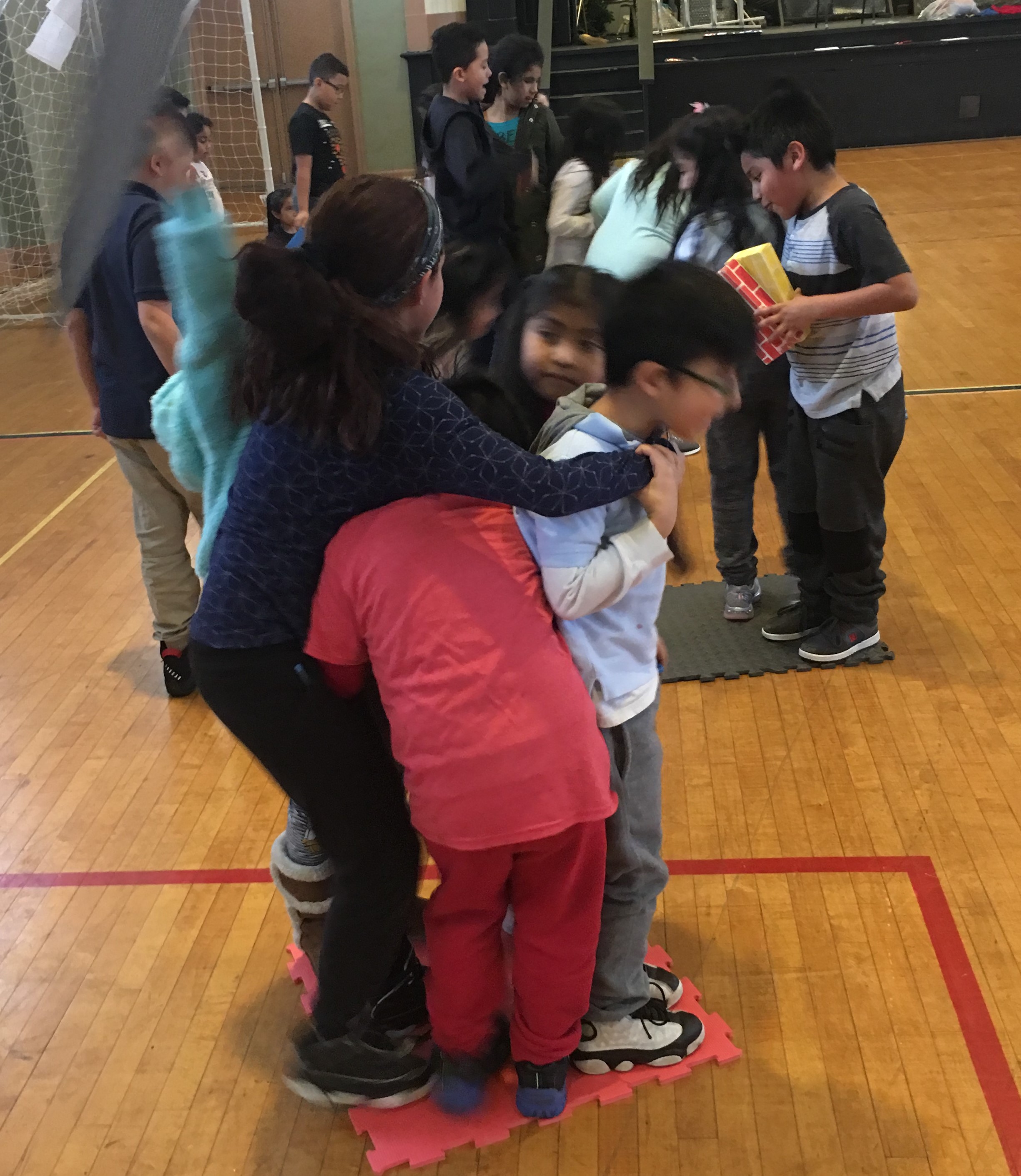 This month's focused story is a beautiful moment where I got to see one of our older kids step up as a leader. One of my favorite things to watch is our kids learning and growing, and then teaching and guiding the younger kids. I see this ALL THE TIME. But last Friday was a special instance!
For the last few weeks, we have been doing "The Amazing Race" with the kids. Each week, the four teams of kids must work together as a team to complete about 6 challenges, each of which represents a city around the world. (For instance, match a Chinese symbol in a game of memory for "China Town", or memorize 3 simple phrases in Creole for Port-au-Prince, Haiti).
Amelia was the team leader for "Team Marshmallow". In the first activity, I looked around at all the groups. They were supposed to be using two mats (as a team) to cross the gym floor without stepping off of the mats - "Crossing the Delaware River". The kids were STRUGGLING. Man… they were having to start over again and again, and pushing each other off the pads! Teamwork is key for most of these challenges.
Suddenly, I see Amelia's team FAR surpassing the others, so I went to look into how they were doing it. I saw Amelia huddling the entire group together, giving clear direction, physically giving support and holding onto her team members who were falling off, and giving each child words of encouragement as they went. Immediately after the activity, I let her know that I had noticed her leadership and was proud of her!
The entire day continued this way! While some of the younger kids would mess up activities, lose items that were needed, or get distracted, Amelia guided them gently and kindly, and her team flew through the challenges.
It was no surprise that Team Marshmallow won by a long shot! When I let them know that they were the first team to finish, Amelia immediately turned to her other (younger) teammates, and individually said to them "You deserve this," "You worked so hard," "Great team work," "You helped us accomplish this." She gave every child a high 5 and said "We couldn't have done this without any one of you. No one deserves this more than each of you because you worked so hard." I was seriously crying!! So often, leadership comes in the form of bossiness, or wanting power and control. Her servant leadership (at age 11!!) was so touching, encouraging and convicting!!
---
February 2019
by Megan Brooks, Director of TVN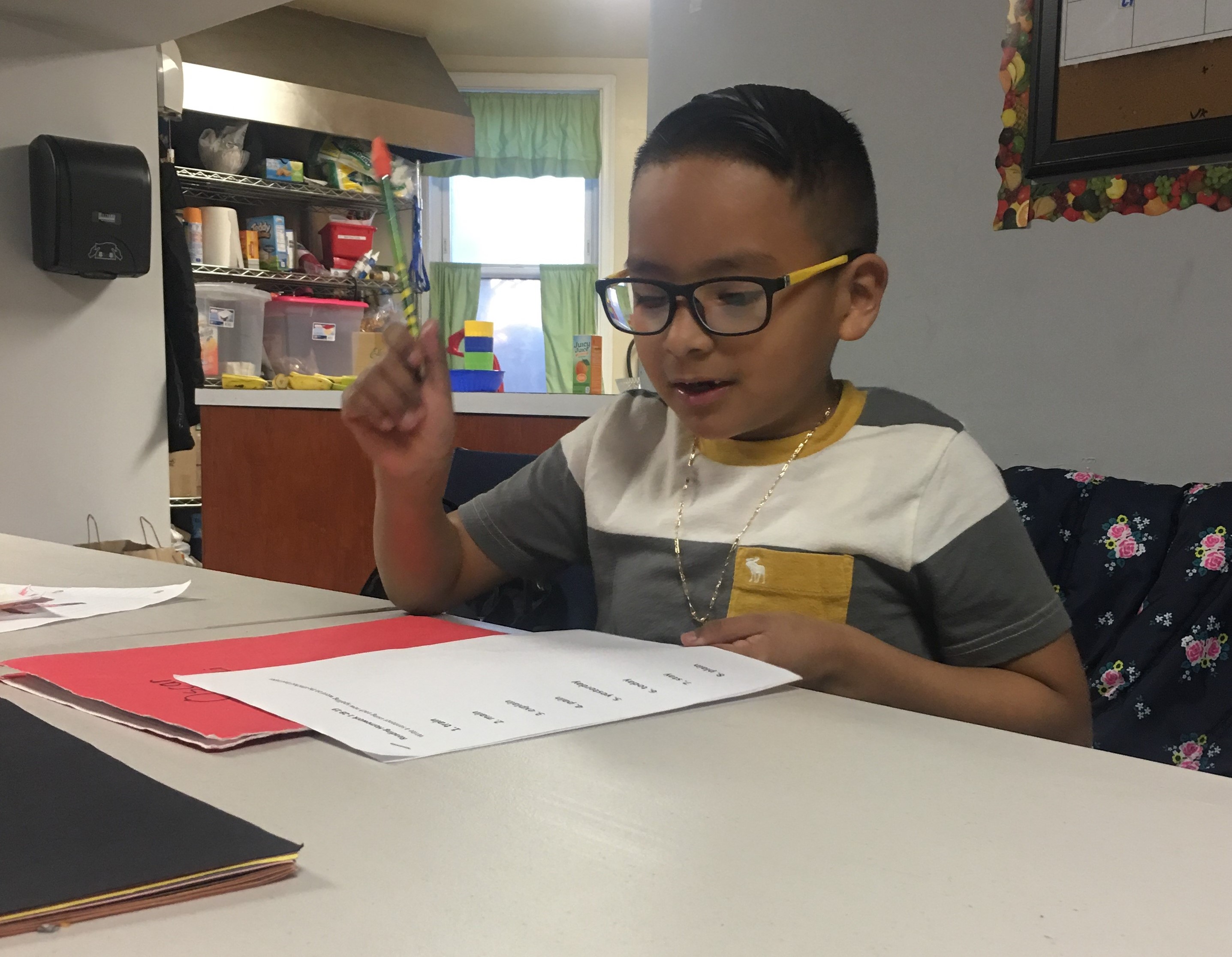 This month's focused story is going to be a little bit different. Instead of talking about one of our AMAZING kids (although, man - are there stories I could tell!!!) This week, I want to tell the story of one of our parents whose child just started After School Program this month.
I received a call from Desarae about two weeks ago, concerning her son, Shepherd. I talked to Desarae for over 30 minutes as she explained that she worried Shepherd might have dyslexia, that he wasn't getting the support he needed from school, and needed help that was beyond what she could give him. In our conversation, I heard a fierce mom who was trying her best to help her son with school, confidence and rootedness. She described an extremely bright little boy that needed an extra hand, who needed to catch up in reading, and who needed the confidence boost of meeting some friends, and getting some extra help. By the end of the conversation, mom and I were BOTH crying. I could tell just by talking to her on the phone, that I already loved this family, but my heart was grieved. There were six children ahead of Shepherd on the waiting list, and we usually only fill an average of two spots per semester. Saying "no" to families who have a clear need is one of the worst parts of my job.
I explained the wait list to Desarae and I could hear the desperation in her voice. I offered to hold a spot for Shepherd in our summer program, and to send her registration information for next year. I told her I would call her if a spot opened up, but we both knew it was unlikely.
Later that week, I began making calls to the parents of kids who had not been to program in a few weeks. Usually, when we tell them that we will fill their spot, unless they are coming regularly, kids' attendance shoots right back up. However, for ALL SIX children that I called, they had become involved in after school activities, and mom said to go ahead and fill their spot - 6 kids! Shepherd was number 7 (out of now 9) on our waiting list. 'One more spot', I thought. This could happen! I grieved the loss of the kids who would no longer be with us (who I completely adore, and will miss desperately). But I also knew, that GOD knew, that Shepherd was number 7. That Shepherd had a desperate, fierce mom who cried with me on the phone. That Shepherd needed the After School Program more. As I began to make calls to fill the waiting list, parents were ecstatic. They kept saying, "Yes, we will come tomorrow!" One by one the spots filled up. The LAST phone call I made, a little boys' dad let me know that they had moved out of the district, and didn't need their spot. GUYS. Shepherd was number 7. Shepherd could come to the After School Program.
So, only two weeks after I had talked with Desarae, and told her that it was unlikely that we could get Shepherd in this year, I was able to call her (with tears in my eyes) and tell her that a spot had opened up. Shepherd is now at the After School Program with us! He is going great and growing his reading skills in Lit Zone. Our kids are loving on him. Our volunteers adore him (because he is precious and witty and respectful). Desarae was thrilled, and thankful, and asked if she could come fill out his papers that same week.
The come and go of children can be hard on our staff and volunteers. We fall in love with these kids. Saying goodbye is breaking off a little piece of our hearts. I will miss Jonathan S., and remember consoling him for MONTHS after his bunny, Love, died. I will miss Nicole and how she has grown into the compassionate young lady who would share a page of her brand new coloring book with each kid in the After School Program. I will miss Jonathan M, and praying through a rough 3rd grade year of math with him, and then watching him excel in 4th and 5th grade - He was one of my original After School Kids. I will miss Erick, and his up-to-no-good smile. I will miss Ashley, who was in my reading group over the summer and was so eager to learn. I will miss Enola, who all of Yellow Zone called "Nanola", because of Kelly's inability to say her name. And I will miss my Mel, who had SEVERAL times in my office, talking about behavior, but who completely won my heart over the last 3 years (finger paint on the bathroom walls, and all.)
That being said, the reality of our waiting list is that, as some kids outgrow their need for us, there are SO many kids who need the After School Program very, very much. Kids like Shepherd, who need to be given a chance. Kids like Jayven, who we welcomed earlier this year. So while our group is always changing and growing, I trust God completely that the kids who find us are the ones who need it the most.
---
January 2019
by Megan Brooks, Director of TVN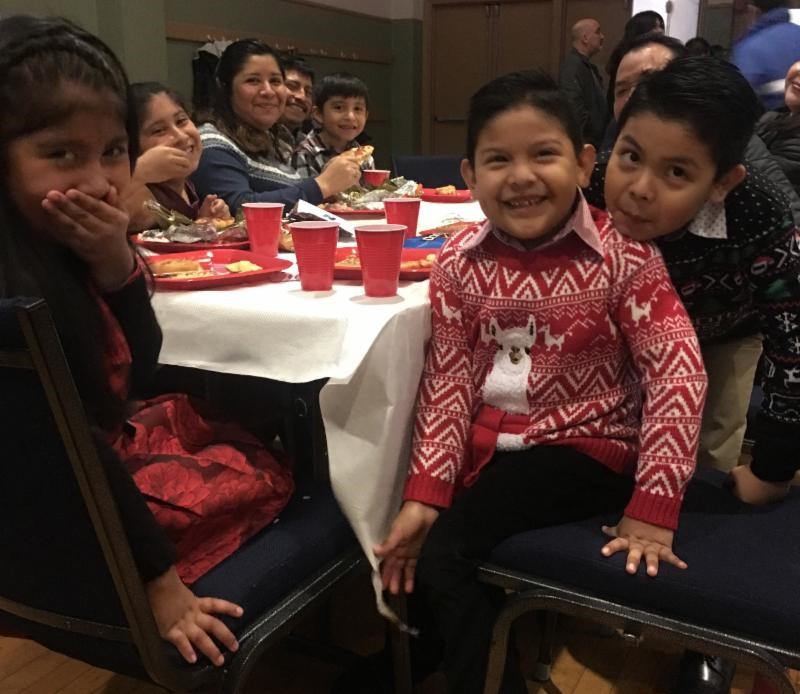 For our featured story this month, I would just love to focus on how amazing ALL of the kids have been in this Christmas season, and especially their behavior and performance at the Christmas show. It has been so fun for me to work with the kids on the show this year. For those of you who were not able to make it to the show, the kids sang 5 songs (Noche de Paz, Angels we have Heard on High, We Wish You a Merry Christmas, and Feliz Navidad). They spent about 3 hours a week practicing the last few months, put so much effort and focus into it, and did a phenomenal job. We also had Vennus and Alex S share scriptures about the birth of Jesus. Justin, Xochitl, Alexander and Denise shared about the true meaning of Christmas, and Kimberly, Kelly and Andy CRUSHED their solos.
One of the most exciting elements of the Christmas show, for me, is seeing all of the people who love these kids rally around them. It is so unifying and fun to have sponsors, volunteers, and families all in the same place. I have always felt passionate about The Village Norristown, because it truly takes a village to raise children up in Christ, and to make sure that families in any community have what they need. It was so fun for me to see this village come together.
---
December 2018
by Megan Brooks, Director of TVN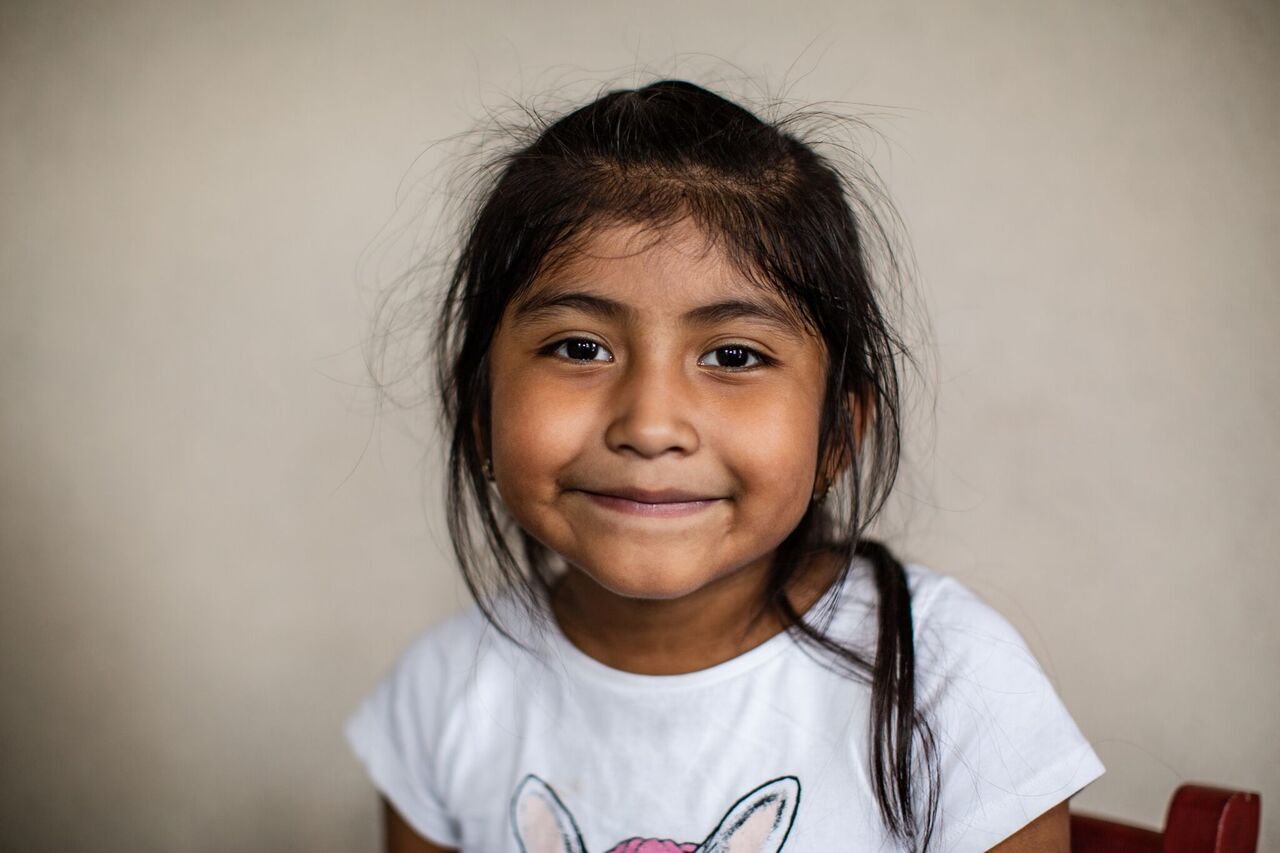 This month, the kids have just been blowing my mind with how kind, mature, and thoughtful they have been. This month has been FILLED to the brim with moments that made me feel so, so proud of the kiddos.
One moment that stands out to me occurred during gym time. Andy got upset because a group of girls already had the maximum number of people for a certain game that they were playing, and had told him to come back in a little for the next round. I was keeping my eye on the situation. I had asked Andy if he was okay and he said yes, but he was clearly upset and sulking. I decided to give him some alone time. Denise, who hadn't been aware of the situation and didn't know why Andy was upset, saw him sitting by himself in the playhouse. This was their precious conversation:
Denise: "Andy, are you okay?"
Andy: "Yeah…I'm okay…"
Denise: "Okay. Well if you decide that you aren't okay, and you need a friend, you can come talk to me."
YOU GUYS! My heart! Denise is 6. She had zero idea that I was listening from several feet away, facing the other direction. This is just one of SO many moments this month where I have seen our kids treat each other, and adults, with kindness and love. They are amazing and beautiful examples for all of us!
---
November 2018
by Megan Brooks, Director of TVN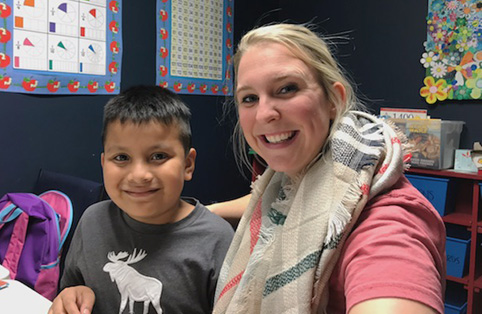 Wow, guys! This week's focused story was a no-brainer for me. I would like to share a story with you about a little boy, who some of you know, named Ioshua. Ioshua has been with us for 3 years, and is now in 3rd grade. Over the last 3 years, we have been working with him so hard on reading. Ioshie could not read in first grade. He did not know his letters, in fact, the sounds he made for the letters were not sounds in either English or Spanish. Several volunteers put extra time and effort into practicing letters with him, every single day. In second grade, Ioshie still couldn't read. The progress we had made throughout the year dissipated over the summer, as he didn't come to our Summer Bridge Program. He went to Lit Zone every single day, and volunteers spent half hour increments with him every single day with his sight words. By the end of second grade, Ioshie was beginning to read words like "the", "at", "and". But he was still so far behind.
Over the Summer that Ioshie was going into 3rd grade, he was in our 1st grade level Summer Bridge group. This year, he has had Lit Zone every day. We have read with him every day. We have fought alongside Mom to get him an IEP at school, and, at the beginning of the year, he got a reading specialist at school.
Last week, Ms. Michele called me over the table, and pointed to Ioshie reading out loud. He read an ENTIRE Dr. Suess book out loud, understood the entire thing, and said "I really like this book". He then said to us, "Can you tell my mom that I can read now?"
I was pretty much crying for the rest of the afternoon. Lit Zone works. Extra time spent with kiddos works. Hours of encouraging and building up and praying and talking with parents works. This is why we have the After School Program. It is my heart to give kids like Ioshie more of a chance in life. To see what they need, and try our best to meet it.
Since that day, I believe, as a result of ALL of the volunteers completely surrounding Ioshie with pride and encouragement, Ioshie has been excited to do his homework, he has been more confident, and he has been asking for more help.
This is why we do what we do! Whether you are a part of TVN through volunteering, sponsoring a child, sponsoring a missionary or donating toward our program, YOU are a part of this, and we are making a difference! Thank you!
---
October 2018
by Megan Brooks, Director of TVN
To be honest, it was hard for me to choose just one moment to focus on this month. September was so full of love, new faces, great questions, and awesome conversation. I have been brought to tears by the hearts of volunteers, both new and seasoned. This month though, I would like to share a little bit about a new little boy that we serve named Jayven.
Jayven is in second grade and in Blue Zone. The very first thing I noticed about him, after his cute smile (missing several teeth) …was… "Oh boy, this is going to be a behavior challenge." Jayven did not listen to any rules, was openly and purposefully disobedient, and didn't seem to appreciate any kind of structure. I found notes in his backpack from his Special Education teacher, indicating he would need extra attention with reading help. Soon, I learned he wasn't able to read much at all… but I couldn't keep his attention for more than a few seconds, before he got angry with me. I left day one praying for patience and understanding.
Over the last few weeks, I have seen Jayven catch on to the rules. I have heard him ask intelligent and pertinent questions to volunteers. While he still acts out sometimes, I see him actively trying to engage appropriately and respect volunteers. He has begun responding VERY well to firm "No's" or "Please do this now". I began to thank God, but also wonder what changed.
Last week, I was walking Jayven up to Lit Zone for some reading help, and he looked up at me with his big eyes (holding my hand) and said "Can I ask you a question?" He was being kind of cute, so I thought he was maybe trying to manipulate me to avoid having to do work. "Yes, baby" I said.
"Why are you so nice to me?"
(Cue my watery eyes.) I sat down with him, and he proceeded to show genuine confusion as to why every one of the volunteers had been so kind to him. I realized that he probably doesn't get that a whole lot at school, because of surface level behavioral issues. I was able to engage in a heart-felt conversation with Jayven about how Jesus is the only one who can help us to be patient and kind with one another, even when we've had a bad day. God wants us to love each other, and show each other his love. That's why we are so nice here. Because we have love that comes from God. He really seemed to understand that.
Over the last week, I have come to realize that my interactions with Jayven are some of my favorite moments in my day. He still acts out sometimes, but I get him. I see his craving for attention (positive or negative). I see his frustration when he doesn't understand. I see that he has needs that have, for a long time, been pushed under the rug out of desperation or lack of time. I get it.
Kids like Jayven are our TVN Big Picture. I feel like my conversations with Jayven have been a gift from God, reminding me why we started. I came to TVN praying for God to give me the kids who needed to see more of who He is… the kids with the behavior problems... the kids who couldn't read… the kids who needed help… the kids starving for attention and love… the kids who needed to be listened to… the kids who need a hand up… the families who need Jesus… the families who need hope.
Jayven is my gift this year. Watching him learn, and watching him get a glimpse of Jesus through this program, helps to remind me why I started. Watching other volunteers fall in love with him, and see his needs reminds me that every person at TVN has a desire to reach the hearts of these kids. We are fighting the good fight, and I can't think of anything more encouraging than to be surrounded by this awesome team.