Back to Staff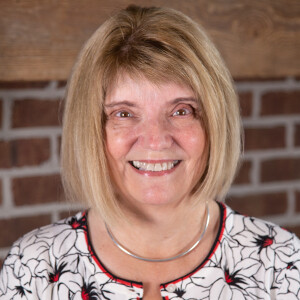 Sandy Allerheiligen
Associate Pastor, Women's and Senior Adult Ministries
Christian, wife, mom, friend, scientist, pet lover, knitter, gardener, traveler, and retiree on an adventure. These are words that have been used to describe Sandy. Little did she know that her next adventure would include becoming a pastor.
Sandy grew up in a Christian home and accepted Christ as her savior when she was nine years old. Her upbringing was a little unorthodox, as her father worked outside of the United States from the time she was young. They lived all over the globe - frequently the only Americans for miles - and in Texas when they happened to be in the US. She met her husband, Ted, who is a retired dentist, in San Antonio during college. Career changes took them to Indianapolis and now Philadelphia. They are blessed to have one son, John, who also lives in the area and volunteers with the church's lighting team.
Over the years, Sandy has worn many hats. As a scientist, she has the opportunity to lead, teach and speak on personalized medicine. Sandy's passion is sharing not only how we can personalize medicine for individual patients, but more importantly, how the Lord calls and dearly loves each of us individually!
Sandy received her doctorate in Quantitative Pharmacology from the University of Texas, Austin. She completed her postdoctoral fellowship at The University of Texas Health Science Center at San Antonio. She held multiple roles in industry and academia and is an adjunct professor for universities in Australia and the US. She is pursuing her ministerial training through the Nazarene Bible College.

Sandy currently leads the Faith Foundations Connect Group at The Village. She also serves as a Women's Ministry Council member, as a speaker in Women of the Word, Prayer Team member, and Welcome Lunch host. She also assists in providing pastoral care for our sick and shut-in church family members.
Sandy's favorite verse: "And what does the Lord require of you? To act justly, to love mercy, and to walk humbly with your God" (Micah 6:8).