Uganda
Claire Amico
Jinja, Uganda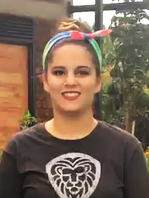 In the spring of 2016, I began to feel a heightened interest and tug on my heart for ministry abroad. Over the next six months, I continued to pray about this desire I felt God had laid on my heart, and in November, I began exploring online to see what was available. In February of 2017, I recalled seeing on Facebook that Amazima Ministries would be opening a school soon, so I went on their website to see what was available. I saw that they had opened a position for a Math teacher at the Amazima Staff Children's School that very day. I applied. The next few months were a blur of back-and-forth with The Amazima School, seeking counsel from trusted Christian friends and pastors, conversations with my parents, and eventually, accepting the position as the Math Teacher at The Amazima Staff Children's School!
I have the privilege of serving at The Amazima School in Jinja, Uganda. I get to serve God and the families who serve at Amazima Ministries as the Upper Elementary and Secondary math teacher and Biology teacher at the Amazima Staff Children's School. This allows the Amazima Staff to serve to the best of their abilities, knowing that their children are receiving a high-quality classical education. I also have been given the opportunity to build relationships with the Ugandan students by leading a small group every-other week. Building Christ-centered relationships with the students who attend the Amazima School is essential as we are teaching them about who God is and who He created them to be. I have been blown away by how deeply many of our students have come to understand the gospel in just one year of the school being open. I count it a blessing to be able to do life alongside both the western and Ugandan students I have come to know and love. Your support allows me to keep doing the work to which God has called me, which has come to be my greatest joy.
The Amazima School is a boarding school that serves some of the most vulnerable children in the area. The school allows them to receive an education unlike that of any other school we are aware of in Uganda, where they are learning about Christ, and they are free to do so in a safe environment with mentors, teachers, and friends who are doing life alongside them and are willing and able to answer their questions.
Amico Photo Gallery
Photos from Claire Amico